Posted by: Mike's America @ 9:01 pm, June 10, 2010
Day 52 of the oil spill!
Obama summoned Congressional leaders to the White House on Wednesday. Was the meeting called to discuss stopping the oil spill and cleanup efforts? Sort of. But in Obama's statement after the meeting he made it clear that his focus was on how to use the spill to force through higher energy taxes. As White House Chief of Staff Rahm Emanuel is fond of saying: never let a crisis go to waste!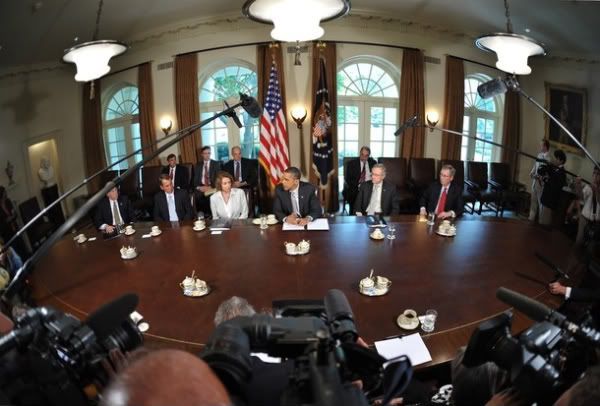 President Barack Obama takes part in meeting with bipartisan members of Congress June 10, 2010 in the Cabinet Room of the White House in Washington, DC. From left: House Majority Leader Steny Hoyer, House Minority Leader John Boehner, House Speaker Nancy Pelosi, Senate Majority Leader Harry Reid, Senate Minority Leader Mitch McConnell.
---