[FoxNews.com]
Published June 05, 2012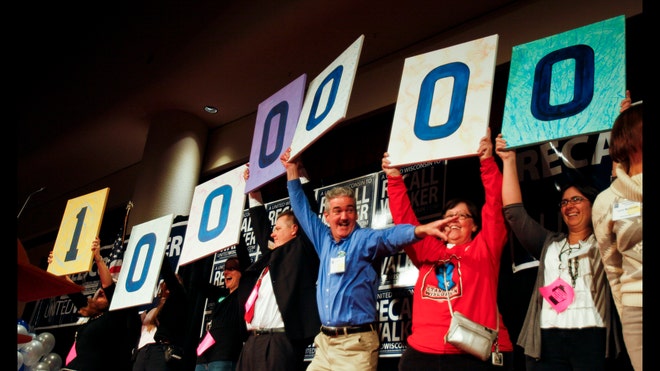 In this Jan. 17, 2012 file photo, supporters of recalling Wisconsin Gov. Scott Walker celebrate after canvassers gathered about 1 million signatures in Madison, Wis. More than a year after the standoff over union rights that rocked Wisconsin and the nation for weeks, the Republican Governor will face Milwaukee's Democratic Mayor Tom Barrett in Tuesday's recall election. (AP Photo/Andy Manis) (AP2012)
The Wisconsin recall election could well be a decisive turning point in the presidential election. Recent polls –showing Governor Scott Walker holding a two to three point lead over Milwaukee Mayor Tom Barrett — indicate that the governor will triumph Tuesday. A victory  would signal a major blow to organized labor and a jolt to Republican governors nationally.
It, too, however, has the potential to be a pivotal, watershed moment in the 2012 presidential election, setting the pace and determining the direction of the race from now until November that could spell disaster for President Obama.
If Walker is re-elected, it will embolden Republicans across the country and alert them that a set of tough positions on fiscal issues, particularly relating to pension and benefits, remains viable.
June 5, 2012 | Categories: 2012 Election, America's Freedoms, American Exceptionalism, Congress, Constitution, Constitutional Responsibilities, Corruption in Government, Deficit, Economic Security, Education, Election 2012, Elections Politics, Electorate, Fiscal Responsibility, Freedom Justice and Liberty, Individual Rights and Freedoms, Liberals Big Spending and Taxes, Most Americans Reject Socialism, National Security, New Media News, Politics, Progressives pushing for Marxism/Socialism, Rejecting Political Correctess, Smaller Government, Tea Party Conservatives, Unfunded Union Pensions, UNION Corruption, UNIONS ACORN and SEIU | Tags: debbie wasserman shultz, doom for Obama, embolden Republicans, lack confidence, madison wis, politics, Rebecca Kleefisch, recall election, republican governors, scott walker, setting the pace, state senators, tom barrett, watershed moment, WI progressive "cradle", Wisconsin | Leave A Comment »
---
[PatriotUpdate.com]
Monday, June 4, 2012
[Editor:  After decades of progressive liberal politics in Wisconsin, this "cradle" of Liberal Democrat Socialism will finally be defeated in Wisconsin.  THIS WILL BE A REFERENDUM ON INCUMBENT PRESIDENT BARACK HUSSEIN OBAMA.]

Tom Barrett, Scott Walker's challenger in the Wisconsin gubernatorial recall election, told CNN this morning that he didn't ask President Obama to stop by the state to rally Democrats in his support. "We understand he's got a lot going on," said Barrett.
Barrett was clearly afraid of being associated with President Obama or the national political scene: "I want to make sure that everybody understands this is about Wisconsin values. It's not about Washington, D.C. It's about right here, who is going to control the future of this state? Will it be tea party, the national right wing? Or is it going to be the state of Wisconsin, and I'm putting my money on the people of the state of Wisconsin."
June 4, 2012 | Categories: 2012 Election, Agency Regulation, America's Disarmament, America's Freedoms, America's National Security, American Exceptionalism, Class Warfare, Cloward and Piven Strategy, Constitution, Corruption, Corruption in Government, Economic Security, Economic Terrorism, Education, Election 2012, Elections Politics, Electorate, Employer Uncertainty, Fiscal Responsibility, Freedom Justice and Liberty, Government, Home Schooling, Illegal Election Funding, Indoctrination, Liberals Big Spending and Taxes, Manufactured Crisis, Media Corruption, Most Americans Reject Socialism, National Debt, National Security, New Media News, Political Contests, Political Incompetence, Politics, POTUS Deception, POTUS Elibility Issue, Progressives pushing for Marxism/Socialism, Propaganda, Radical Liberal Progressive Left, Redistribution of Wealth, Rejecting Political Correctess, Scandals, School Districts, School Unions, State Voter Initiatives, Tea Party Conservatives, TEA Taxed Enough Already, The Economy, Uncontrolled Protesters, Undermining Constitution, Unemployment, Unfunded Union Pensions, UNION Corruption, UNIONS ACORN and SEIU, VOTER FRAUD | Tags: Barack Obama, CNN, Democrats, Gov. Scott Walker, politics, recall election, scott walker, state of wisconsin, tom barrett, Walker likely to survive recall, WI Recall a referendum on Obama, Wisconsin | Leave A Comment »
---